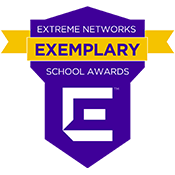 Anne-Marie Fiore honored by Extreme Networks for Delivering Leading-edge Technology
Extreme Exemplary School Award
Anne Marie Fiore, Executive Director of Technology and Information has been honored with the award of the Extreme Exemplary School Award. School districts honored with the Exemplary School Award are chosen based on its educational commitment to implementing a personalized 21st century learning environment and embody the best in American education. Through the technology work and infrastructure created by Miss Fiore, Chelmsford Public Schools was one of four districts in North America to receive this award.
Extreme Networks Inc selected the winners based on how well they instituted a one-on-one or mobile learning environment, facilitated individual instruction, and encouraged curricular growth.
Positively one of the more rewarding activities for us at Extreme Networks is recognizing and bringing attention to outstanding schools and educators. Education is more than business to us. We understand how vital education is to the future of our children and our country. An important goal of ours is to drive innovation and encourage continuous quality improvement in our schools. For this reason, we instituted the Extreme Exemplary School Award program to recognize and honor visionary K-12 school districts.
The Exemplary Awards are based on three criteria that emphasize creating a personalized 21st century student learning environment.
Stimulate 24×7 Learning: To meet the demands of today's competitive global economy, schools must create lifetime learners. To promote this concept and qualify for the Enterasys Exemplary School Award, a school must institute a 1:1 or BYOD mobile learning environment.
Facilitate Individual Instruction: Learning is not a one-size-fits-all environment. Networks and resources must be individualized to permit secure per-user, per-device policies that allow every student to individually learn and excel.
Encourage Curricular Growth: To meet the demands of curricular change, districts must implement an infrastructure that readily adapts to curricular needs. Everyone learns differently, and the network must be prepared to meet the growing requirements of eBooks, streaming video, and blended or flipped learning.
This week we announced the most recent winners of the Exemplary School Awards:
Jackson Local Schools in Massillon, OH
Valdosta City Schools in Valdosta, GA
Red Deer Public Schools in Red Deer, AB Canada
Chelmsford Public Schools in Chelmsford, MA.
The new Exemplary Award winners join these previous honorees:
Washington Unified School District: West Sacramento, Calif.
Matanuska-Susitna Borough School District: Palmer, Alaska
Port Huron Area School District: Port Huron, Mich.
Stephenville Independent School District: Stephenville, Texas
Town of Enfield: Enfield, Conn.
Kimberly Area School District: Combined Locks, Wis.
Moore County Schools: Carthage, N.C.
Milton Hershey School: Hershey, Pa.